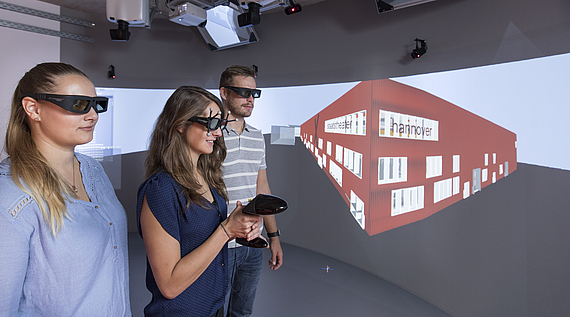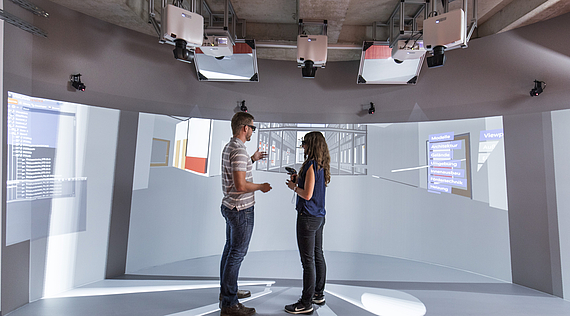 With the VR LAB, the institute operates a laboratory which corresponds to the current state of the art in both hardware and software. In addition to the pure VR projection via five high performance projectors with an interactive wall/floor projection, the laboratory has a tracking system with four infrared cameras, which can recognize different tools (glasses, flystick and other definable tools) in space and thus enable interaction of the user with the model.
In addition to a master pair of glasses, other Head Mounted Displays can be connected to the VR environment in the Lab, so that several participants can work on a model in the same environment at the same time. Coordinates are transmitted via the alignment of the tracked glasses to an institute's own high-performance computer, which supplies the corresponding image material for the respective position.
The wall and floor projection allows the user to immerse himself in an immersive experience and enjoy the digital model realistically.
Application
Virtual Design Reviews (project reviews on the model)
Training opportunities for numerous professional fields
Audio-visual simulations
Do you have your very own use case, would you like to conduct a virtual design review of your construction project or impressively demonstrate the current planning model to the client?
At VR LAB we offer workshops for industrial partners, research institutes and institutions. Please feel free to contact us!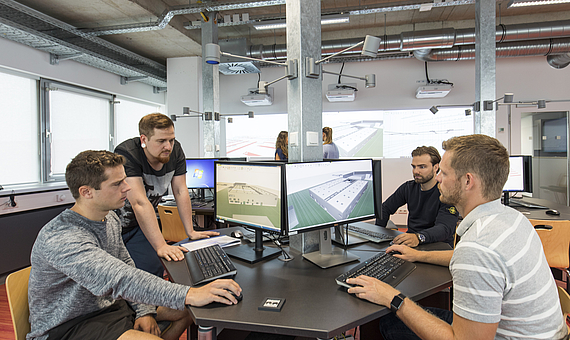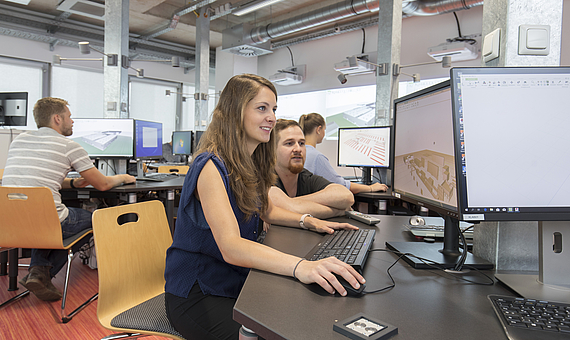 The interdisciplinary collaboration of the various project participants is simulated role-based at the workstations of the Co LAB arranged in groups. At the cooperative workstations it is possible to simulate the collaboration and the processes during project development via planning, construction, documentation, operation and dismantling. Each discipline involved is assigned to a workstation group. Due to the IT-technical networking of the groups, simulation possibilities are very diverse; for example, the different information technological conditions of local conditions are simulated.
A specific practical case here is the digital cooperation between the planning offices involved in the project, the architect, the construction company and the client.
Applications
Project Kick-Off Workshops
Training of interdisciplinary digital collaboration
Inspiration workshops
You have your very own use case, want to get your BIM project on the right track at the beginning or want to inspire employees of your organization with the BIM workflow?
At Co LAB, we offer workshops for industrial partners, research institutes and institutions. Please feel free to contact us!